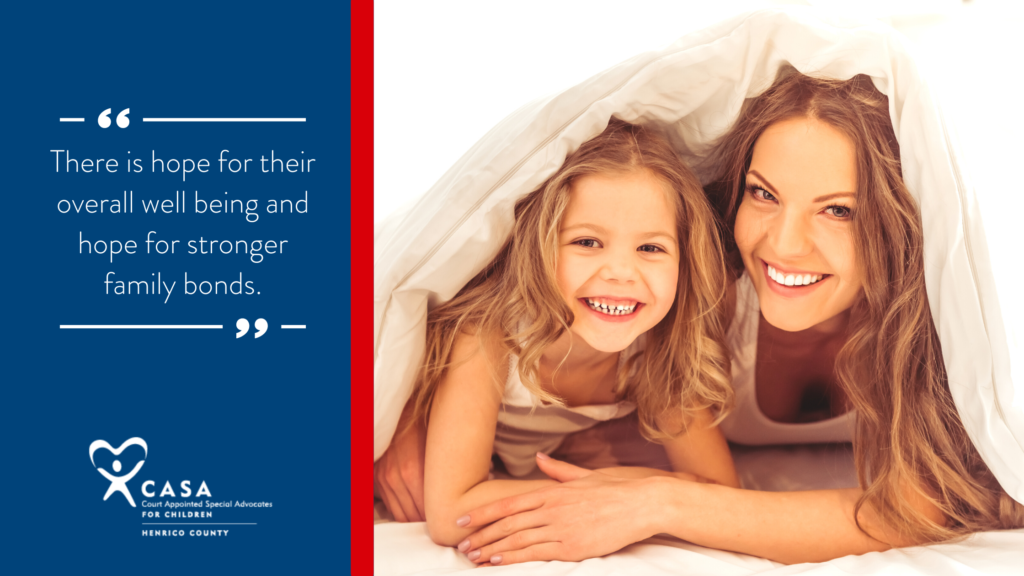 A child's bond with their mother runs deep. It can be complicated when a mother is struggling to meet her child's needs.
While under their mother's care, Madi* and her sister were found hurt and wandering outside, alone at night. The girls had a biological father who was granted full custody and able to provide everything they needed… except that he wasn't their mother. Madi thrived under her father's care, but deeply missed her mother.
Madi and her sister were appointed a CASA volunteer who ensured they were safe in their father's care.
This volunteer spent extensive time getting to know not only the children, but their mother and father, as well. In doing so, lines of communication were opened and a more thorough picture of this family's dynamics, including their strengths, was presented to the Court. Everyone collaborated to determine a plan for allowing the children to have interactions with their mother.
Now the girls are living safely with their father, while maintaining a healthy connection with their mother. It's an arrangement that provides physical and emotional stability, as well a sense of optimism as they continue to grow healthy relationships within their family. There is hope for their overall well being and hope for stronger family bonds.
Henrico CASA gave Madi and her sister the gift of a happy childhood. With your help, we can give a happy childhood to another child. Donate now to give a gift that matters.
*Names have been changed to protect identities of individuals.