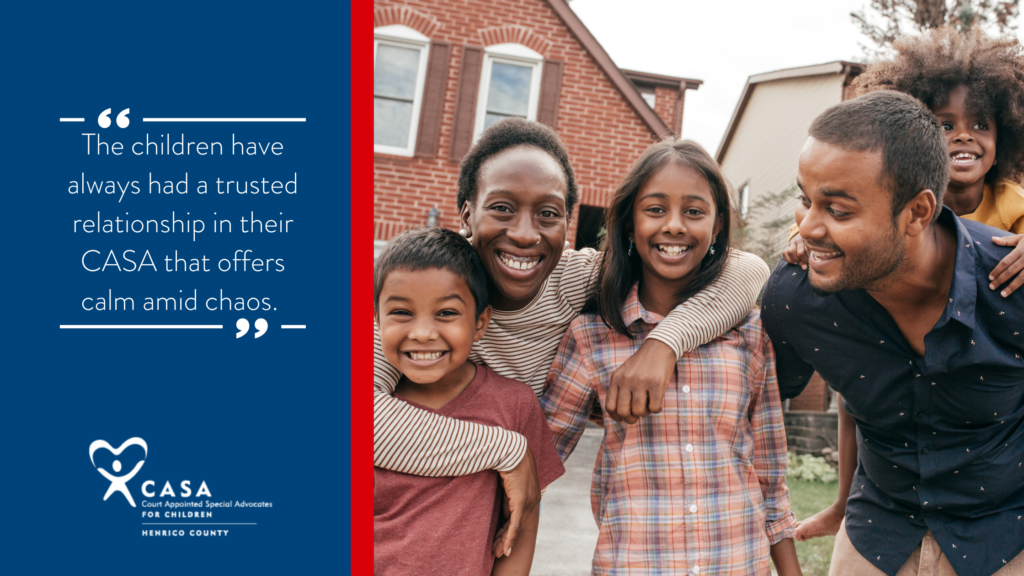 We could all use a cheerleader from time to time. A source of positivity and encouragement, perhaps even someone who holds up bright, colorful signs to remind us of our worth.
James, Nate and Aubrey* have been experiencing this type of encouragement thanks to their CASA.
This sibling group was found living in an UHaul truck. They were understandably fearful, vulnerable to the ups and downs of their parents' substance abuse disorders. It was quickly determined that their family of origin was not able to offer the stability they needed, so James, Nate and Aubrey were separated and moved to different foster homes.
Over the years, the children have had three different social workers, several counselors, and lived in multiple foster homes. Through all of this change, they have had ONE consistent CASA volunteer. This volunteer invested time getting to know not just the children, but everyone involved in the children's lives. The CASA volunteer listened intently when the children communicated the people and places that made them feel most safe and secure, and was able to convey the children's wishes to the court. Over time, the CASA volunteer facilitated a sense of teamwork among the various parties involved, working together for the best interests of the children as individuals and as a sibling group.
Although James, Nate and Aubrey have found stability in the present, their story is still a work in progress… but the children continue to light up when they see their CASA volunteer. The years of consistent phone calls, video chats, visits, and socially distanced visits with bright, colorful signs have built up their self worth. The children have always had a trusted relationship in their CASA that offers calm amid chaos.
Henrico CASA is giving James, Nate and Aubrey the gift of a safe home. With your help, we can give security to another child. Donate now to give a gift that matters.