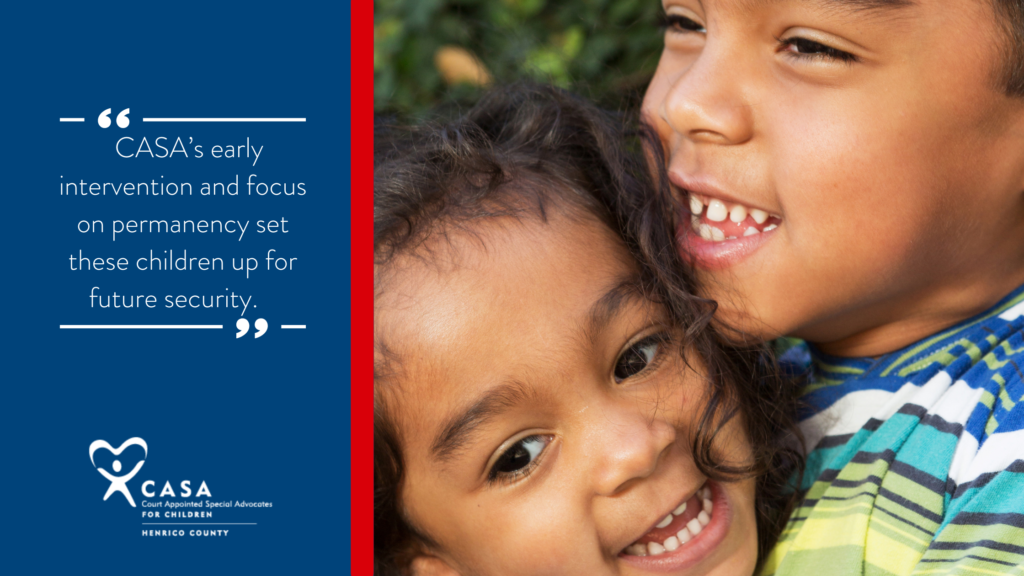 CASA works to strengthen families. However, sometimes it isn't safe for a child to remain with their family. This is a heartbreaking situation, because a child needs the connection and cultural identity that is most often provided by family. The instability that follows leaving one's family can be detrimental to a child's well-being. As a result, it is important to work towards a plan for permanency – an outcome that will provide the stability needed for the child to grow roots in order to grow wings.
In the CASA case story below, loss and instability were inescapable, but CASA's early intervention and focus on permanency helped set these children up for future security.
Ava and Malik* were born into a violent cycle of domestic abuse and substance abuse. They came to the attention of Child Protective Services after a series of over twelve visits to their home from law enforcement.

A CASA volunteer, Mike,* was appointed to ensure the children's home was safe. During weekly visits with Ava and Malik, he observed the parent's progress with Court-ordered services. He also proactively built intentional relationships with the children's extended family.

In a heartbreaking turn of events, the children's father died of an overdose and their mother had a mental health break. Thanks to Mike's in-depth knowledge of their family, they were quickly transitioned to live with relatives.

Mike couldn't shelter the children from loss. However, CASA prevented added fear, anxiety, and instability by helping find a safe home for the children.