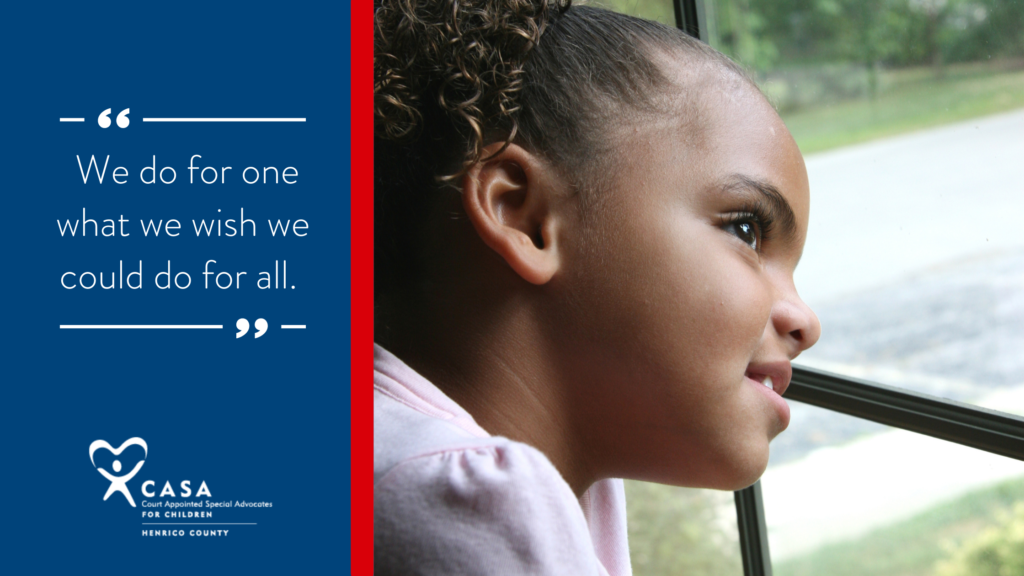 Ending child abuse globally feels like a daunting goal. That doesn't mean there's no where to start! As Court Appointed Special Advocates, we can stop abuse and neglect for at least one child. We do for one what we wish we could do for all.
Even if you aren't able to volunteer as an advocate, you can still make a difference. There are MANY other ways you can support CASA's work, thereby helping vulnerable children. Here are just a few ways to get you started:
Visit Henrico CASA's HOME FOR GOOD event April 22 – May 8.
Five beautiful, custom built playhouses are on display at Short Pump Town Center. Make a $5 donation to Henrico CASA in order to earn the opportunity to win a playhouse! See the playhouses and make donations to win on our website.  

Sign-Up for Kroger Community Rewards.
If you have a Kroger Plus rewards card, you can register for Kroger's community rewards program! After you register, Kroger will designate a portion of the money you spend at their stores towards Henrico CASA. It's no added cost to you and we receive quarterly disbursements from Kroger. Click here to learn more and register (Henrico CASA, AU340).

Shop with Amazon Smile.
Chances are you use Amazon for some of our online shopping needs. Head to smile.amazon.com and choose Henrico CASA as your designated non-profit. If you initiate purchases from smile.amazon.com instead of amazon.com (the site looks and feels identical), CASA will receive a portion of all the money spent. Click here for instructions.

Investigate Employee Giving.
Many corporations have matching donation programs for employees who donate to or volunteer with nonprofit organizations. Reach out to your employer to see if they offer this type of program and how it works. 

Round Up To Donate Spare Change.
We have partnered with the RoundUp App to offer our supporters a unique way to give back to our mission. Now you can simply connect your credit or debit card to the app, and it will round up all of your purchases to the next dollar and donate your "change" to Henrico CASA.
Learn more or sign up here. 
Thank you for employing these ways to support our vision that all children in Henrico County live in safe and stable homes.
April is Child Abuse Prevention Month. If you suspect a child is being abused or neglected, call the Virginia Child Abuse & Neglect Hotline at (800) 552-7096. The hotline is staffed 24/7. You may make a call anonymously, but if you provide your name it will allow local authorities to follow-up with you.