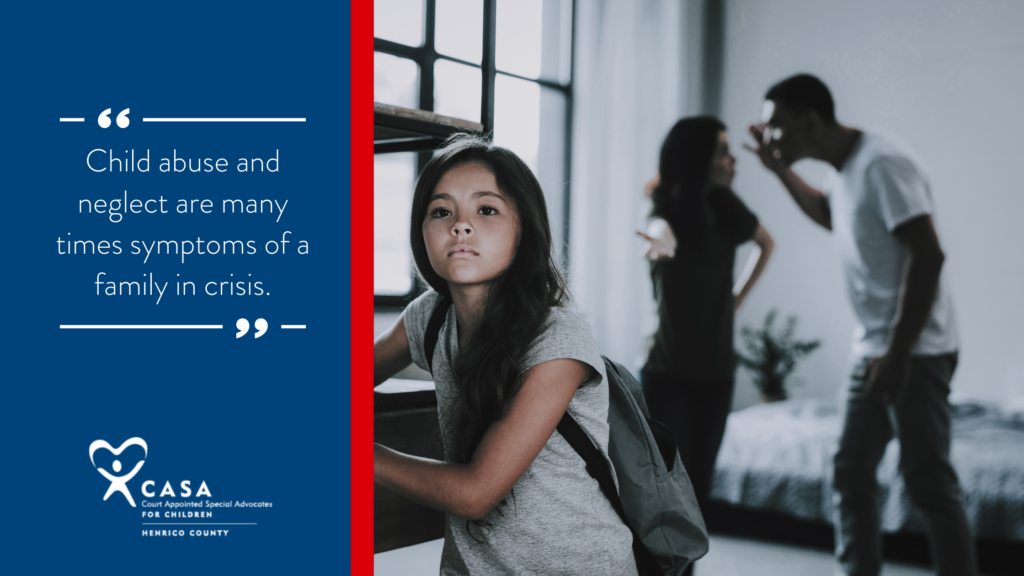 In our work at CASA, we have learned that child abuse and neglect are a pattern of behavior, sometimes not overtly intentional. Child abuse and neglect are many times symptoms of a family in crisis. Families Forward VA shares similar observations when they say, "There are no monsters. Abusive parents can be your friends, your neighbors or your relatives. They are ordinary people, caught in life situations beyond their control."
The National CASA/GAL Association for Children compiled these facts and data points to build a better understanding of the pervasiveness of child abuse and neglect.
According to the CDC, at least one in seven children have experienced child abuse and/or neglect in the past year, and this is likely an underestimate. In 2019, 1,840 children died of abuse and neglect in the United States.

According to the Children's Bureau of the U.S. Department of Health and Human Services' 2020 Child Maltreatment Report:

Children younger than one-year-old have the highest rate of victimization at 25.1 per 1,000 children of the same age in the national population.
American Indian or Alaska Native children have the highest rate of victimization at 15.5 per 1,000 children in the population of the same race or ethnicity; and African-American children have the second highest rate at 13.2 per 1,000 children of the same race or ethnicity.


Rates of child abuse and neglect are five times higher for children in families with low socio-economic status compared to children in families with higher socio-economic status. Children and youth who have spent time in the child welfare system are more likely to face incarceration, homelessness, and unemployment. They are less likely to graduate high school and more likely to be trafficked.
Remember that thriving families depend on strong support systems. Henrico CASA is proud to be a source of support for children and their families. Support can also come from family, friends, neighbors, and others in the community… people like YOU!
April is Child Abuse Prevention Month. If you suspect a child is being abused or neglected, call the Virginia Child Abuse & Neglect Hotline at (800) 552-7096. The hotline is staffed 24/7. You may make a call anonymously, but if you provide your name it will allow local authorities to follow-up with you.