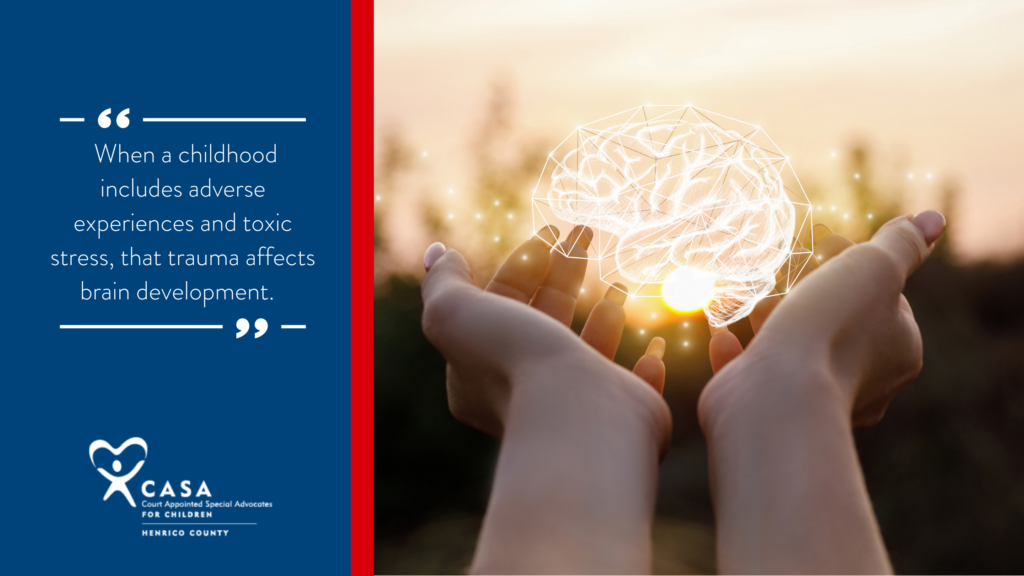 Our vision at Henrico CASA is for children to live in safe and stable homes. Really, we wish for more than just that baseline for each child. We want them to have the opportunity to thrive – to develop, to flourish, and to succeed.

In this month's blog posts we are taking a look at the factors that promote and protect youth well-being. Well-being implies overall health and wellness. This means a child's primary needs, such as safety and permanency, are being met. It also encompasses social, emotional, behavioral, and physical health. The Center for the Study of Social Policy published a guide for holistically supporting youth, in all of these areas, by promoting five key indicators for positive youth development.

Today, we are diving into Knowledge of Adolescent Development.
Knowledge of Adolescent Development
When a child is born, their brain is about one-fourth of the size of an adult brain. It doubles in the first year of life and then continues to grow rapidly until about age 5. Before a child enters kindergarten, their brain has grown to be 90% of the size of an adult brain. The brain continues to grow and develop, at a slower pace, until age 25. It is not until someone reaches their mid-20s that all regions of their brain are considered to be fully developed.
When a childhood includes adverse experiences and toxic stress, that trauma directly affects brain development. The brain can develop unevenly or lack neurological connections, potentially intensifying emotions and/or impacting cognitive function.
CASA's Application
When working as a CASA volunteer, it is important to understand this timeline for brain development. It gives perspective on challenges that many youth, especially teenagers, face including making decisions based on feelings and engaging in dangerous behaviors. Some ways a CASA can protect a teen from common missteps are to:
Discuss the teen's family history. This can help a youth better understand the challenges and cycles they may likely face. Where possible, make sure the youth understands the reasons behind negative behaviors they have witnessed.
Talk about why we all act the way we do. This can be framed in terms of brain development, but also in terms of what experiences a child has lived through.
Walk through the trade-offs between various risks and rewards.
Make sure the teen knows they are not alone. It is "normal" to feel big emotions.
Identify safe people they can call for help.
There is no shortage of information available on brain development and trauma. Ever since the ACES (Adverse Childhood Experiences) study began in 1994, this field of study and application around trauma informed care has grown significantly. The CASA team is proud to be a part of the region's Trauma-Informed Community Network and often partners with other organizations like ChildSavers to provide training and continuing education on this topic to our volunteers. When we know better, we do better!