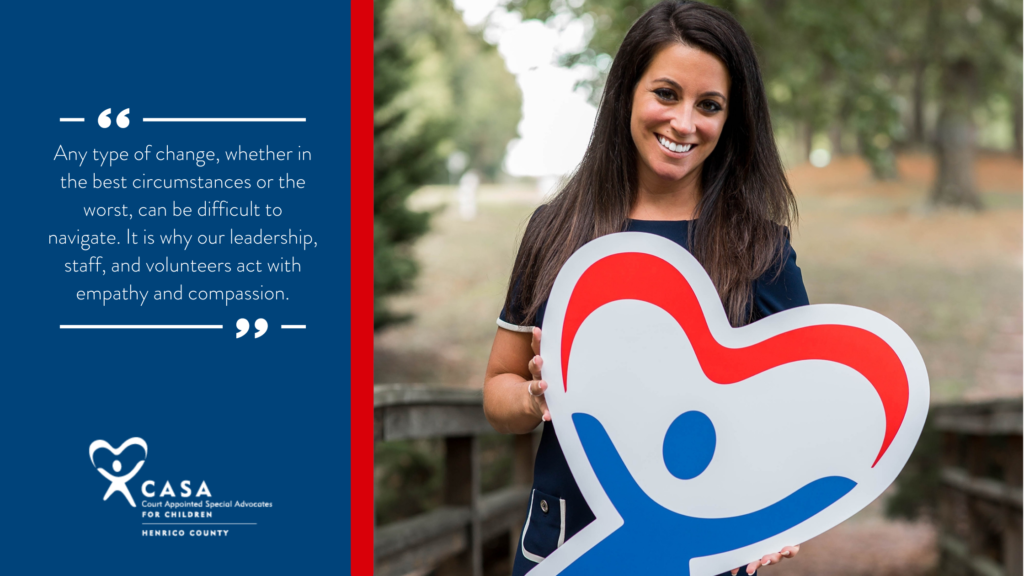 Our team at Henrico CASA is emerging from a few months of chaos. Last November, our office embarked on exciting renovations and upgrades to include building two new offices, installing sleek flooring, and getting a fresh coat of paint. While there was excitement around the upgrades, we also knew there would be significant disruption to our normal routine.
When construction began, our office was completely packed up. All of a sudden, everything was different. Hallways and offices were empty. There was nothing personal on the walls. The carpeting was removed, leaving bare concrete. There were no familiar voices of staff and volunteers discussing cases. Our previously warm space felt cold, dark, and eerily quiet.
As I observed the change in our space, I found my thoughts turning to the children and families we serve. The abrupt change in our office led me to reflect on the larger-scale changes that the people we serve experience. The children so often feel lonely and confused when their situation suddenly changes. In the darkest situations, there is fear and sadness when they can no longer see a parent or are placed in foster care. Similarly, their family members may feel an emptiness and deep sorrow because the demons they struggle with lead to the absence of their child.
Any type of change, whether in the best circumstances or the worst, can be difficult to navigate. It is why our leadership, staff, and volunteers act with empathy and compassion. We work toward positive change for children and families, along a path lined with services, support, and encouragement.
I am so thankful and proud that our organization has dedicated leadership, in the form of an active Board of Directors, that truly prioritizes strengthening families in our community. To ensure we stay focused on this goal, we are moving forward strategically, with a lens on inclusivity, to:
Build capacity within our organization to meet the needs of a growing number of children referred to us;
Educate and engage the community regarding the sometimes-dangerous situations many children live and survive in; and
Establish a safe, inviting, and enriching space for children and families to visit in order to nurture healthy relationships.
While these goals are ambitious, we know they are possible. We will lean on each other and you, our supportive community, as we move us forward over the next three years.
The office renovations are now complete, and it no longer feels cold, dark, or quiet. Instead, it is once again warm, bright, and inviting. It is a home away from home. As we move forward with our strategic plan, we have a similar goal for the children and families we serve. We aim to help them transition from feelings of loneliness, emptiness, and darkness to brighter feelings of happiness, hopefulness, and, of course, love.