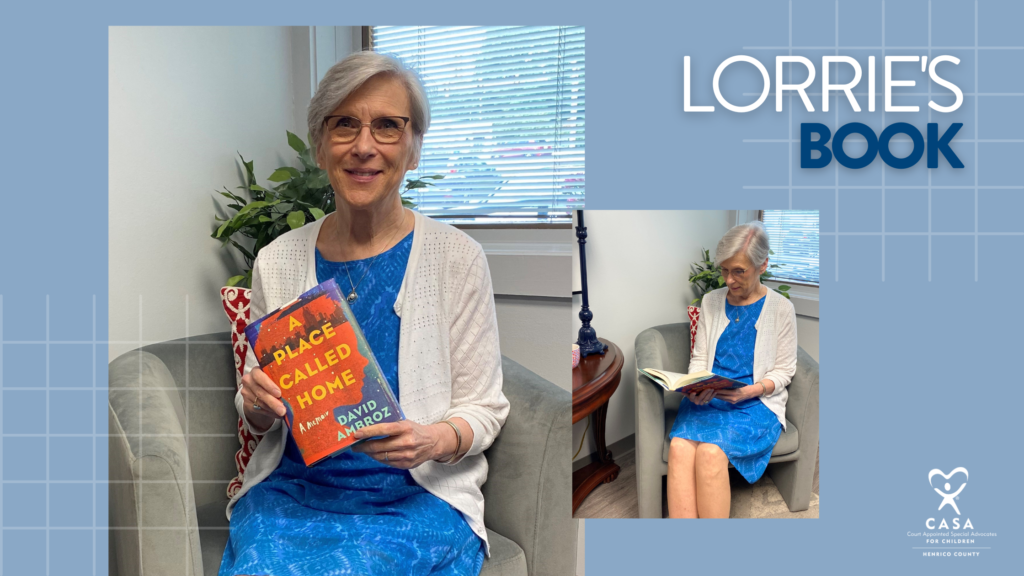 Our team at Henrico CASA loves to read… and there's no better time to read than the summer! In upcoming weeks we'll be highlighting some of our recent favorites in the hopes that you will enjoy the themes and connections to our work as child advocates.
Synopsis
There are millions of homeless children in America today. In A Place Called Home, award winning welfare advocate David Ambroz writes about his own homelessness as a young child and his subsequent years in foster care. He offers a window into what so many children living in poverty experiences every day.
David Ambroz is a national poverty and child welfare expert and advocate. He was recognized by President Obama as an American Champion of Change. Currently serving as the Head of Community Engagement (West) for Amazon, Ambroz previously led Corporate Social Responsibility for Walt Disney Television, and has served as president of the Los Angeles City Planning Commission as well as a California Child Welfare Council member.
A Place Called Home depicts childhood poverty and homelessness as it is experienced by so many young people who have been systematically overlooked and unprotected. It's at once a gripping personal account of deprivation—how one boy survived it, and ultimately thrived—and a resounding call for readers to move from empathy to action.
I Recommend Because…
We all know that poverty exists, but what do we really know?! In reading this book, I found a closer look at what poverty is for a child. David Ambroz describes his eleven years in poverty, life with a mother with significant mental health issues, abuse, and neglect, and then foster care. David, the youngest of three, shows the reader what it was like to survive every day, look after his older siblings, and navigate his mother's mental illness. All the while, he sought out how a child should be treated, loved, and cared for.
Throughout the book, David not only talks about the struggles, but he also talks about that occasional individual that cared. It's clear they meant a lot to him in his journey for a better life. That person would emulate, "You matter. We care. You are worthy." Is that not CASA's mission?
David describes the horrible things that his mother did to him, but also shares the times that she was loving and nurturing. Part of his survival was attributed to his mother, because in between frequent descents into mental illness, she was a nurse who managed to find work. She valued education, was well-spoken and resourceful. She would find her children decent places to live before either arguing with the landlord and leaving or deciding that aliens are monitoring the place and that her family must go.
David's story reminds me that no matter if the parent is good, bad, or indifferent, a child is connected to their parent. As a child's advocate, we must be mindful of that connection. We must also seek out potential positives that could support a child's healing. David found these opportunities in libraries, schools, and the occasional kind-hearted adult. He harnessed those positives and also had an inner grit that allowed him to escape the all-too-familiar negative outcomes for a child with trauma like his.
As Court Appointed Special Advocates we take the time to listen and learn about the children we serve so that we can give the court the whole story. Our goal is to make well informed recommendations for a better outcome. I can only hope that we support children in a way that allows them to success like David did. He found hope. Through hard work and unwavering resolve, he was able to get a scholarship to Vassar College, his first significant step out of poverty. He later graduated from UCLA Law with a vision of using his degree to change the laws that affect children in poverty.