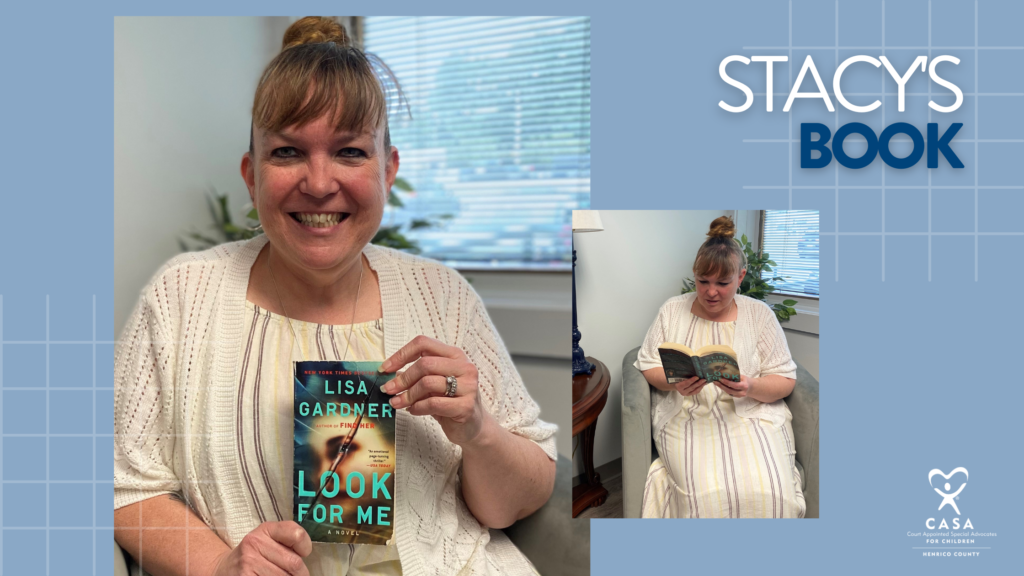 Our team at Henrico CASA loves to read… and there's no better time to read than the summer! In upcoming weeks we'll be highlighting some of our recent favorites in the hopes that you will enjoy the themes and connections to our work as child advocates.
Synopsis
Look for Me by Lisa Gardner is a mystery in a series with Detective D. D. Warren and survivor-turned-avenger Flora Dane. The story begins when four members of a family are murdered in their home, but the fifth family member, a teenage girl – is missing. That is where the twists and turns begin, then leading to an unraveling of a family's traumatic background. A review by Shari Lapena summarizes Look for Her perfectly: "An utterly absorbing story about troubled families and twisted fates. You won't be able to put it down—and it will haunt you long after you turn the final page."
I Recommend Because…
Originally, Look for Me was recommended to me as there are several references to CASA and foster care in the book. It's a traumatic story full of fear and pain. It's an extreme story of the work we do in real life, but it is in fact the work we at Henrico CASA do every day. One of the big takeaways regarding CASA is the importance and benefit of having supportive people around children as they go through some of their toughest moments. This novel will remind any CASA volunteer how important it is to continue to push, ask questions, and look beyond the surface.
When you look beneath all the pain of the story, there are some beautiful themes:
There is a mom who worked tirelessly to get her children back from foster care yet even after their reunification, she continues to feel guilt. Despite that guilt, the mom continued to do the right things for her children. I believe her actions were redeeming. Her story did not end in a positive manner, but her journey spoke of love and redemption.

Relationships played a key role in this novel. I believe no matter the age or the circumstances, relationships are a sustaining force in one's life. Even when they are unhealthy, relationships are a driving force for people. It is amazing when someone can step in and be a positive relationship with someone who is hurting.

The enduring strength of people is incredible to me. In my role at CASA, I watch people strive to make something good out of the worst circumstances. It is awe inspiring. Everyone's journey is different, but given the opportunity the journey can be a testament to the strength of the human spirit.
Some may see tragedy in this book, but not me. I was left with a sense of hope for the characters… Hope for peace, hope for family, hope for recovery, and hope for a future.