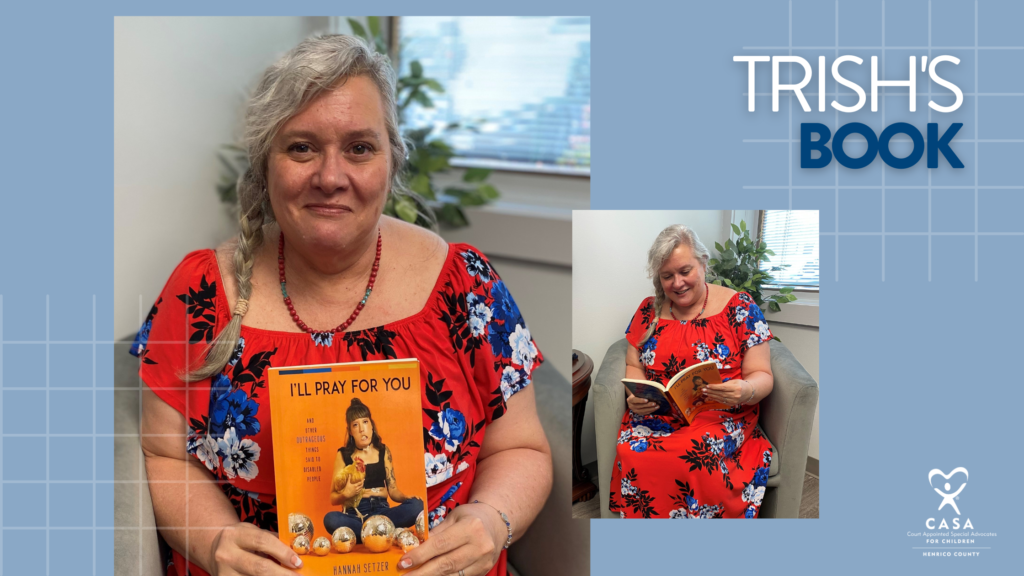 Our team at Henrico CASA loves to read… and there's no better time to read than the summer! In upcoming weeks we'll be highlighting some of our recent favorites in the hopes that you will enjoy the themes and connections to our work as child advocates.
Synopsis
In I'll Pray for You and Other Outrageous Things Said to Disabled People, Hannah Setzer volunteers to go first and say the things that we all think, but rarely say. Hannah has lived her whole life as a disabled woman and is here to share her story, though don't think for a second that this is inspiration porn. In fact, Hannah's disability is the least interesting thing about her! Read more of Amazon's description here.
I Recommend Because…
I cheated ever so slightly when I selected my Henrico CASA summer reading book (or maybe double dipped more than cheated). I am part of a few book clubs, and one book club is sponsored by The Moebius Foundation. My son, Luke, has Moebius Syndrome, "a rare birth defect that mainly affects the muscles that control facial expression and eye movement, caused by the absence of the sixth and seventh cranial nerves." I became active with the Moebius Foundation after his birth and subsequent diagnosis. This Spring, the Foundation's book club was reading a local author's book titled I'll Pray For You, and Other Outrageous Things Said To Disabled People by Hannah Setzer*.
Hannah Setzer and her husband, Brandon, were foster parents and now adoptive parents to four boys. When asked, "How do you prepare yourself to foster a kid?", she replied, "My answer is: you don't. In all honesty, foster care is rough, both for the family and the kids. You're never sure who you're going to end up with. Babies need all the same things (diapers, a crib, milk) but not teenagers. So you just wait for them to arrive, and then spend a lot of time at Target."
I found her stories of being a foster mom, and eventually becoming an adoptive parent very relatable to many of the similar situations for the CASA children that we serve. She candidly shares reflections on her adoptive son's resilience, a topic we focus on often in our CASA work. She describes adoption as "so beautiful and harsh and unexpected and uncommon. My hope is that we stop assuming how families are knit together." I was reminded of how when we are advocating for a child's best interest, we are often tasked with looking at all versions of what 'family' might look like for that child.
In her book, Hannah Setzer says the things that we all think, but rarely say. She is funny, no-nonsense, and purely honest. The book is essays from her life; full of parenting fails, awkward stories, ideas on discovering and accepting your identity, and real-talk from a woman who happens to be labeled as 'disabled'. I highly recommend it! Find it online or on CASA's shelf.
More to Share
*It should be noted, Hannah Setzer does not have Moebius Syndrome; she has cystic hygroma, a rare lymphatic disorder, including facial anomalies, that led doctors to believe she would never walk or talk.
Hannah is a college graduate and serves as an advocate for the Disability Law Center of Virginia where she takes a stand for others who might not be as strong. The Setzers have been raising money to purchase land where they in in Powhatan and build an accessible playground for children with disabilities. The couple also wants to introduce a community garden. Any food not used by neighbors will be donated to area food pantries.
According to an article published in the Washington Post (June 2021), Setzer is not a public figure. She doesn't run a major company or any organization. She is just an ordinary person who happens to have an extraordinary goal: She and her husband want to create a space unlike any that exists near them. They want to build an accessible playground and a community center complete with businesses that will employ disabled adults and foster youths who are aging out of the system.
They envision the place bringing together people with visible, invisible and no known disabilities and allowing them to play, shop and, if needed, do their laundry together.