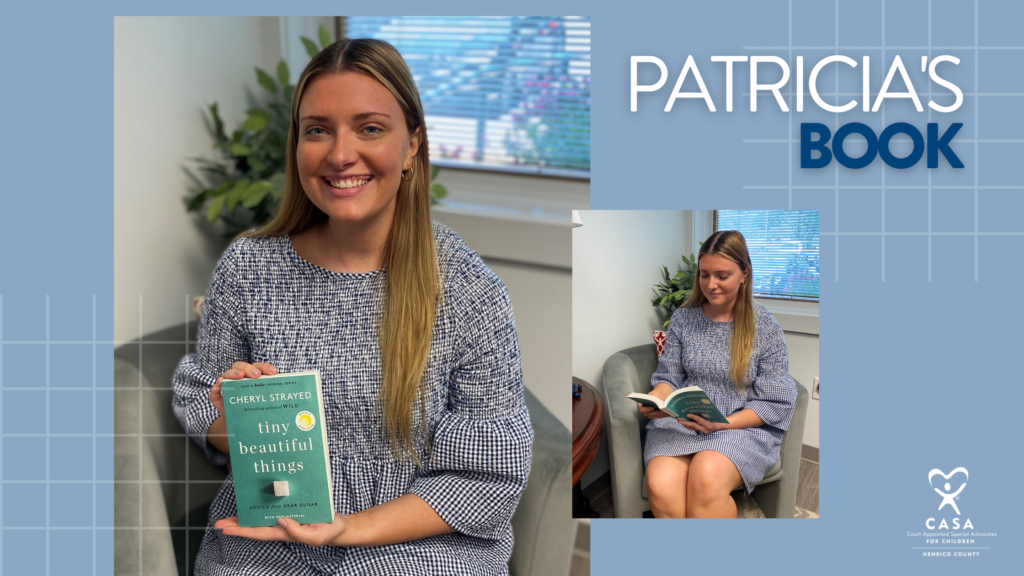 Our team at Henrico CASA loves to read… and there's no better time to read than the summer! In upcoming weeks we'll be highlighting some of our recent favorites in the hopes that you will enjoy the themes and connections to our work as child advocates.
Synopsis
Tiny Beautiful Things: Advice on Love and Life from Dear Sugar is a compilation of advice columns written by Cheryl Strayed using the pseudonym "Sugar". The advice columns in this book were written between 2010 and 2012 and were published in The Rumpus, which is an online literary magazine.
The book is divided into six different parts.
Part one starts off with Cheryl giving clarification on what types of letters she answered, if she edited any of them before posting them, as well as the type of advice she gives out. In this section of the book, a woman wrote Sugar and told her of a devastating loss she had in which she miscarried her baby and felt "stuck", unable to move forward from her grief.

In part two of the book, Cheryl began by giving more clarification on her background and qualifications (which is that she was not really qualified). In this section, she disclosed her own sexual abuse by her grandfather which started when she was three years old. The detailed the effect it had on her and how difficult it was for her to process what had happened to her at such a young age.

In parts three and four of the book, Cheryl starts each one by answering questions from her readers that range from "If you had to give one piece of advice to people in their twenties, what would it be?" to "What's a weird thing that happened to you?". In these sections, Sugar gives advice to people young and old about their relationship problems. She also gives advice to a young woman who wrote to her asking if she should spend the holidays with her abusive brother.

In parts five and six, Cheryl has included the advice columns she wrote more recently for other literary magazines and anthologies. One of the questions Cheryl started part six off by answering is "Do you ever feel burdened by so many years of contemplating other people's pain, problems, and struggles?" Cheryl answered that what she has learned over the course of her life is that when we are in the presence of someone else's pain, "The burden of not doing is so much greater than doing. Doing lifts the burden, even if it's a small thing like writing a letter."
I Recommend Because…
While the role of the CASA volunteer does not include giving advice like Sugar does, CASA does aid in the process of sharing people's stories. While working our cases, CASA's goal is to be able to tell the Court the child's full story and in turn, make formal recommendations to the Court based on the information gathered and shared with us.
I found this book to be so moving because people were sharing very vulnerable stories about their life. The people who wrote to Sugar were from all walks of life. Yet in spite of that, Sugar was almost always able to draw upon her own life experiences when crafting her advice responses. The level of care Sugar took in her responses was inspirational and sets an example for all of us in our own CASA work.
We value the stories of our CASA children and their families. Visit YouTube to see some of their stories. You will be moved.