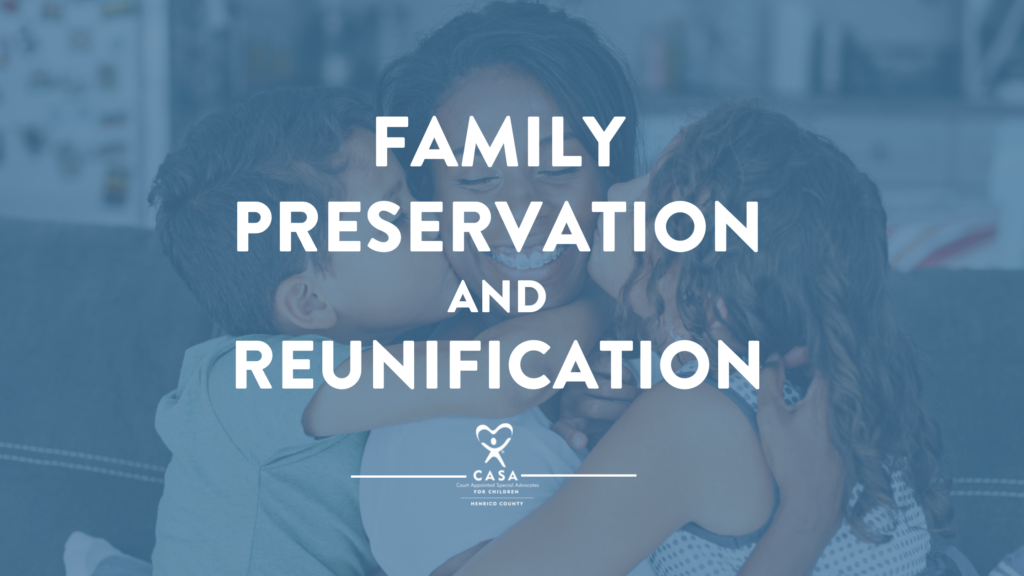 January is known as a time for vision. It is a season to look ahead and make commitments for the new year. However, before we move forward, there is benefit in reflection. At Henrico CASA, we are using this time to meditate on our core values, remembering what is most important to us. Our core values are our agreed upon beliefs and we want to diligently apply them in our present and future decision making.
Join us this month as we walk through each of our values. First up, Family Preservation and Reunification.
Value 1: Family Preservation and Reunification
We believe that children grow up best in their families. Our work will support family preservation and reunifications whenever that can be achieved safely.
Our team is driven by the guiding principle that families offer vital connection and cultural identity for children. That is why we strengthen children and their families, together, whenever possible. We highlight this value in our volunteer training by spending a significant amount of time discussing families and cultural awareness. Our pre-service training explores the challenges that families may face, while also explaining how to identify a family's strengths. 
Unfortunately, it is not always safe for children to remain with their family of origin. In these cases, our top priority is the health and safety of the child. It is heartbreaking when a child must leave their family of origin, but as advocates we look for ways to maintain a direct or indirect connection with their parents and relatives.
Childhood trauma and a lack of permanency are linked to a child's current and future physical health and mental well-being. We can't overemphasize the importance of security and stability as a child grows and develops. We are committed to our role of speaking up for children and advocating for these foundational needs.

There is a sense of unity in reflecting on our values, because these are shared beliefs among friends to our mission. What are you doing in 2023 to show that you value family?