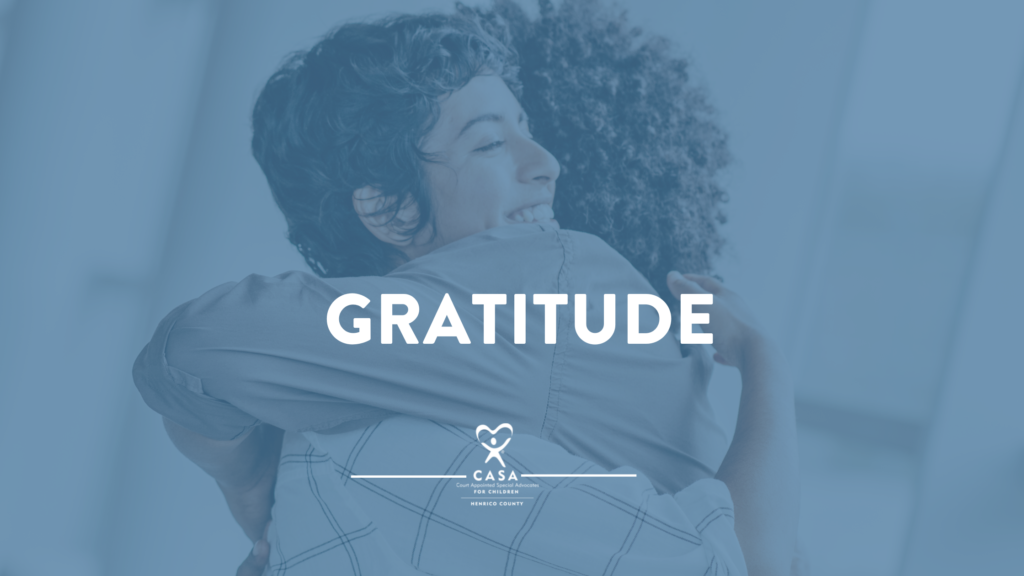 January is known as a time for vision. It is a season to look ahead and make commitments for the new year. However, before we move forward, there is benefit in reflection. At Henrico CASA, we are using this time to meditate on our core values, remembering what is most important to us. Our core values are our agreed upon beliefs and we want to diligently apply them in our present and future decision making.
Join us this month as we walk through each of our values.
Value 4: Gratitude for the Commitment Made by our Volunteers, Staff, and Donors
We realize that we could not accomplish our mission without the selfless commitment from many in our community.
We are incredibly thankful for every single person who supports our mission, in whatever way they contribute to further our work.
CASA's staff and volunteers are driven by their compassion. They are highly trained and dedicated to speaking up on behalf of those who can't speak for themselves. In doing so, they are making a difference one child at a time.
Similarly, our donors are driven by their kindness and generosity. By giving monetarily, they are making an investment in the future. They are contributing to a child's future, that child's future family, and our entire community. 
As Robert Kennedy said, "Each time you stand up for an ideal, you send forth a tiny ripple of hope." We are so grateful for the ripples of hope that are flowing into Henrico County thanks to Henrico CASA's volunteers and donors.

There is a sense of unity in reflecting on our values, because these are shared beliefs among friends to our mission. What are you doing in 2023 to show that you value gratitude?