Your donation changes a child's story.
When vulnerable children walk through difficult times with a Court Appointed Special Advocate, they report significantly higher levels of hope... and hope leads to many positive outcomes including optimism for the future. That's why your donation to support the work of Henrico CASA is truly a gift of HOPE.
"My CASA would always tell me she would do everything in her power fighting for me. She let the Judge know how I really felt." - 9 year old
"My CASA always reassured me that my child's safety was priority. Partnering with her gave me the confidence to overcome my fear of further physical violence and continue to do all that I can for the best interest of my child." - Parent

Text SAFEKIDS to 44321 to give on your phone.

If you are interested in making a stock donation, contact Jeannine Panzera. Additional information can also be found here.

Government/Schools #126
Contributor's Choice Corporate Campaign
#3637
Commonwealth of VA Campaign #003651

Community Reward Programs
If you have a Kroger Plus Rewards card, you can earn money for Henrico CASA every time you shop. Register online in less than five minutes.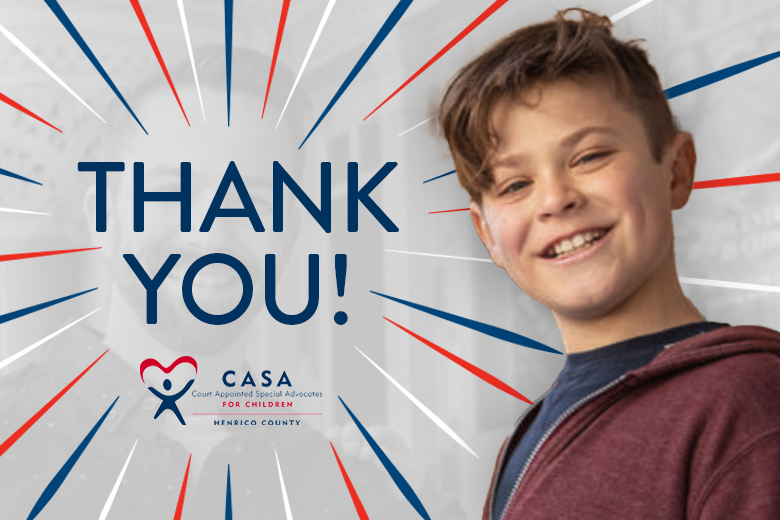 To all our supporters who have generously shared their time, talents, and gifts we are grateful. Your kindness has made a tremendous difference in the lives of the children served by Henrico CASA. Because of you, each child stands a chance at the brighter future they deserve!
Click to see a full list of donors. In addition, your rights as a donor may be read here.