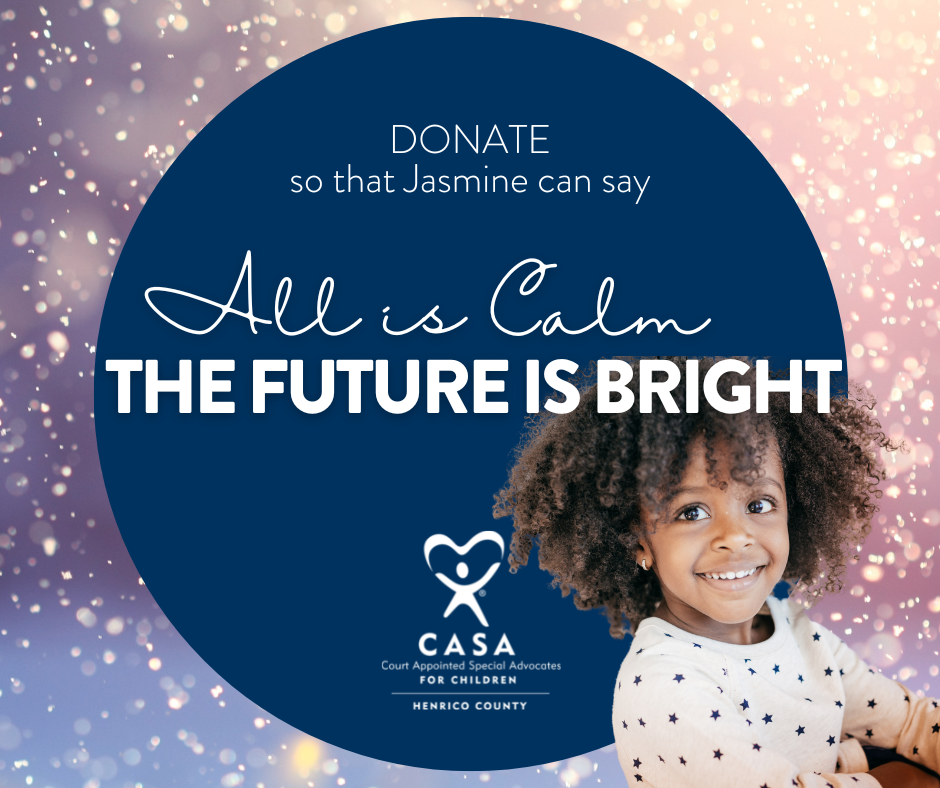 Jasmine's father left her and her younger siblings in a parked car. They sat alone in that car for hours, scared and confused. When Jasmine feared that their father was not coming back, she began looking for help. Aid came in a commotion of strangers and police officers. Jasmine was thrust into the unknown.
Jasmine's CASA, Charlie, found her in a flurry of upheaval. Jasmine and her siblings had been removed from everything and everyone that they knew… sent to live with a relative who felt like a stranger. As the eldest, Jasmine felt an added burden of shielding her younger siblings from the chaos.
Charlie showed up for Jasmine again and again, becoming a constant face and voice that she could count on. They met weekly on a picnic bench in front of her new home. There they built a trusted relationship, and Jasmine slowly began sharing her feelings. Charlie listened and absorbed her big emotions. Jasmine was no longer carrying her heavy burdens alone.
Jasmine is now looking beyond the present. She better understands her father's mental health issues and dreams of reuniting with him when he gets better. Jasmine has someone on her side, her CASA, who is advocating for her present needs and helping forge a pathway toward a brighter future.
All is calm for Jasmine. Now YOU can make sure her future stays bright.
Your gift to Henrico CASA gives Jasmine, and children like her, a dedicated advocate who is a stable voice of encouragement, helps coordinate care, and prioritizes their best interests. Donate now.