Fighting for a child's right to a safe, loving and permanent home.
Volunteers dedicated to the needs of abused and neglected children.
Henrico County Court Appointed Special Advocates
Henrico CASA is a nonprofit organization committed to advocating for the best interests of children involved in the Henrico County Juvenile and Domestic Relations District Court process. The Henrico CASA program recruits, screens, trains, and supervises volunteers dedicated to representing the needs of abused and neglected children, children in juvenile dependency proceedings, and children in need of services or supervision. The volunteers promote safe permanent homes for all children and seek to educate the community concerning the needs of abused and neglected children.
Henrico CASA is the only court advocacy program for abused and neglected children in Henrico County and directly impacts the administration of justice for these most vulnerable citizens.  CASA volunteers complete an independent evaluation of each child's circumstances, focusing on the safety and well-being of the child, and help the child and family to understand the sometimes confusing court process. The advocates speak to all caregivers, family members, and case professionals, visit regularly with the child, and review the child's health, mental health, and school records. As mandated reporters of abuse or neglect, they report any concerns about the child's situation to Child Protective Services.
CASA volunteers work closely with the child's social worker and the guardian ad litem attorney appointed for the child, providing much-needed information to both. Volunteers also collaborate with all professionals who provide case management, legal representation, and counseling services to help ensure that the child remains safe and can be placed in a permanent home in a reasonable period of time. The final work product of each advocate's efforts is a detailed report to the Court, complete with a case history, documented factual finding, and recommendations of family stabilization services.
In addition to Henrico CASA's court advocacy program, the organization works to promote and participate in collaborative efforts with other child-serving agencies on behalf of abused, at-risk, and truant children and to raise community awareness in this area.
CASA is central to fulfilling society's most fundamental obligation by ensuring a compassionate and well-qualified adult who will fight for a child's right to a safe, loving and permanent home. 
You can be a CASA!  If you want to help children and have around 15 hours per month we can provide the rest!  We also need your donations to provide a volunteer advocate for each referred child. It costs over $250 to train a volunteer and approximately $750 to serve a child for a full year.  Please use the button below to make a donation using your credit card.  You will receive an email confirmation and a letter of thanks by postal mail.
CASA ensures better outcomes for children!
A report from the Office of the Inspector General
Children with a CASA volunteer are less likely to spend time in long-term foster care: 13.3% for CASA cases versus 27.0% of all children in foster care.
Cases involving a CASA volunteer are more likely to be permanently closed. Statistics for children with a CASA volunteer reentering the CWS (CASA Data Request) are as low as 1.4% versus 16% for children not served by a volunteer.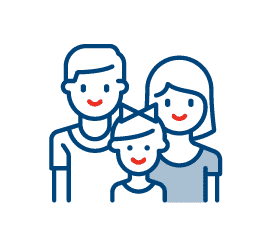 In the most serious cases of maltreatment, children with a CASA volunteer are more likely to be adopted by a new family and less likely to be returned to a troubled home.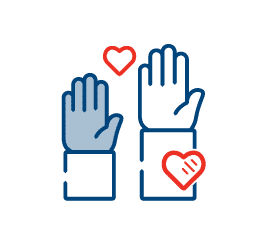 When a CASA volunteer is involved, both children and parents were ordered by the courts to receive more services to assist with their needs.
Henrico CASA is a nonprofit organization which grew out of efforts by Henrico's Juvenile Court judges and a group of concerned citizens to improve the system's response to abused and neglected children. Since 1994 there have been more than 400 volunteer advocates sworn in to advocate for more than 3,000 children and families of Henrico County.
The National CASA/GAL Association
Last year, more than 74,000 CASA volunteers served more than 238,000 abused and neglected children through 951 program offices. CASA volunteers have helped more than two million abused children since the first program was established in 1977. Visit the National CASA website to learn more about the organization and to locate other local CASA organizations.