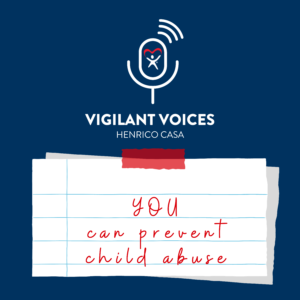 Listen to Episode 1 of the Vigilant Voices™ podcast, You Can Prevent Child Abuse.
Kristin Blalock: Today is our first episode of the Vigilant Voices podcast. We had originally planned to launch this podcast in April during Child Abuse Prevention Month, which is obviously appropriate for our work, but honestly, we're just too excited to wait.
Jeannine Panzera: It's so true. We just couldn't help ourselves. We are so excited to be launching this podcast because we, at the end of the day, are just very passionate about the wellbeing of children and families. And specifically in our work at CASA, we have learned that it is so important to really KNOW about the challenges facing children and families so that we can ensure NO child faces abuse, neglect, or trauma.
K: See what we did there, listener? K-N-O-W about abuse so that there is N-O abuse. We won't give you just cheesy word play in our podcast. Every episode, we're going to share a child's story with you, and then we're going to dive into issues related to what came up in that story and childhood trauma in general.
J: And at the end of each episode, we're really hoping to leave you with a message of hope and then a small step that you can also take to help stop child abuse.
K: Okay, so Jeanine, have you ever wished you could hit rewind to stop something before it even started?
J: That's a good question, but I think my answer has to be most definitely!
K: Right? We all have. Well, there was a CASA case last year that I wish we could have paused and hit rewind on. There was a child, and we're going to call this child Jamie because we always change names to protect privacy. But Jamie was actually dragged across six lanes of traffic. The sweet little one had previously been abused, and her parent was actually trying to evade the police during this kind of crazy incident. If we could have paused this traumatic scene and rewound the moment, we would have seen things escalating for quite a while for a single parent who was just drowning in substance abuse challenges and a bit of a transient lifestyle.
J: I think when we really think about that heartbreaking situation for that child, it really highlights the reality and sad truth that families all around us are in crisis and we don't always see it behind closed doors. And that's the reality. We can't see it. And maybe we just aren't trained to always see those signs. Or maybe we have our own challenges and so that's what we're focusing on. Or the other reality is that we don't want to see it and we don't want to acknowledge that this might be happening, but families are everyday navigating broken relationships, economic hardships, which is especially an issue for all of us right now. Health issues, mental health challenges, substance abuse struggles, the list goes on and on. And of course, COVID and the pandemic just has really underscored and exacerbated these issues.
K: Seriously, I think COVID is a trauma that we all have in common.
J: COVID really was a trauma. And I think that we're all still just coming out of that. And at CASA, we're serving these families who are trying so hard to come out of all of those different issues that we just mentioned and specifically their children that have experienced abuse or neglect. And our observation among the almost 4,000 children that we have served to date is that for the most part, abuse and neglect is not intentional or purposeful.
K: That's so true. I know I do, and I'm assuming a lot of us do, when we hear 'child abuse,' we think of this big evil parent almost like a cartoon figure intentionally hurting their child. But that overt, intentional abuse isn't what we see a lot of the time. For the most part, parents love their kids, but they have their own issues that are kind of getting in the way of them parenting in a safe and healthy way. And studies show that stress is actually a risk factor for child abuse and neglect. So unfortunately, when families are strained, abuse is more likely to happen.
J: And if we really think about it, there are just so many challenges that parents and family members are struggling with. I'm actually looking right now while we're talking through our Impact report last year where we always share the work that we do and the impact that we've had. Looking at this, we reported that of all the children that we served last year, 62% of them had families with identified mental health concerns. 37% of the families had substance abuse issues; 29% had struggles with housing and housing instability; and 23% just didn't even have a parent who was present in their life.
K: And these problems aren't exclusive, right? So these issues compound and families are dealing with not just one of them, but many of them piled on top of one another, which makes for a really messy home life and a lot of challenges.
J: It's so true. And these are just such complex problems. And so what we think about every day is how can we help prevent child abuse when there are such struggles? And so as we reflect in order to prevent child abuse, it makes sense to try to figure out how we minimize stress on families. And so we have a few ideas for that. Show up for people, support them, try to put services in place around them to really lift up their strengths so that we can help with those issues. And we're saying this in terms of societal support and individual support because I think that we all, and that includes you, can help lighten the load for a family and prevent possible abuse or neglect.
K: So true. Ideally, we can collectively work together as a caring community to support families and to prevent abuse and neglect before it even starts.
J: But sometimes we can't do that because abuse is hidden until it's not. And so CASA is needed to intervene and prevent that abuse or neglect from continuing.
K: And that's how the story we started with at the beginning of the episode ends. A CASA volunteer was appointed by a judge to advocate for Jamie. And that CASA volunteer visited Jamie every week to check in… As Jamie moved in with a new relative, as she changed classes, as she changed schools, as she participated in therapy, as she reconnected with her parent who was getting help in a treatment center.
J: I just love that and it really just kind of warms my heart and makes me smile. Because truly, every child deserves to have someone speaking up for their best interests. For healthy families, a parent is the one advocating for their own kids. Kristin, you know that in your everyday life, I see you doing it with your children every day. But when a parent is struggling and not always able to do that, that's exactly where someone needs to step in to really help with that.
K: And for the CASA program, the person stepping in is one of our volunteer advocates. But you listener can also be a safe, stable, caring adult in a child's life. You don't need a formal role like being a CASA volunteer. You can support a family who needs a little help. And in doing so, you really are preventing possible future abuse.
J: It's always about the little things, right? And I think that's our call to action for you this week. Think about or choose a family that you know and just sit back and really try to see them this week and see if there's something that you could do to help them out. Whether it's knowingly or totally anonymously, maybe we can try to do something to help lift a burden for someone else this week.
K: Yeah, clearly that's something we can all do. And we're going to give you a way to take action like this every episode. Because here's the deal. If we do things like this with hope and confidence, we can trust that we're making a difference. Even if it's the small things, even if it's something that maybe goes unnoticed, it does add up to make a difference. And any given day, we don't know what burden a child or family may be struggling with. So there's no way for you to really know the impact your kindness has. But it does have an impact and it does matter. It could be your chance to rewind a situation and prevent a heartbreaking scene from ever even happening.
J: Will you take our challenge this week? We hope so.