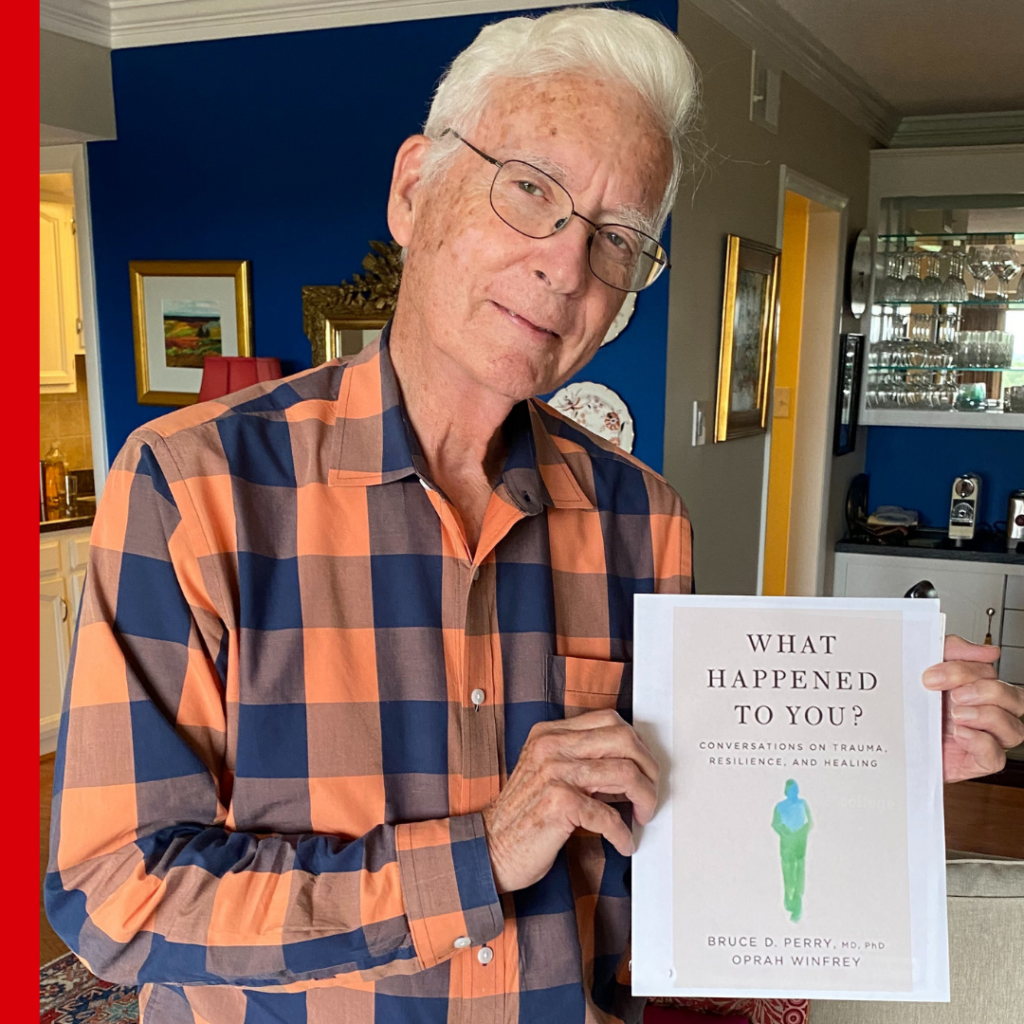 Our team at Henrico CASA loves to read… and so do our amazing volunteer advocates! Our volunteers read MANY books as part of their continuing education. They often take the time to tell us about their favorites and how they connect to our work as child advocates.
Below is a "book report" from Richard Davis, an advocate with Henrico CASA since 2011. Richard has generously given 3,098 hours of his time to serve 37 children over the last ten years.
Synopsis
Through deeply personal conversations, Oprah Winfrey and renowned brain and trauma expert Dr. Bruce Perry offer a groundbreaking and profound shift from asking "What's wrong with you?" to "What happened to you?"

Winfrey shares stories from her own past, understanding through experience the vulnerability that comes from facing trauma and adversity at a young age. In conversation throughout the book, she and Dr. Perry focus on understanding people, behavior, and ourselves. It's a subtle but profound shift in our approach to trauma, and it's one that allows us to understand our pasts in order to clear a path to our future―opening the door to resilience and healing in a proven, powerful way.
Why I Recommend…
"This book pulls together elements of many books I previously read into an expansive treatise surrounding the issues of trauma history, its impact, recognition, and treatment for what amounts to our human population as a whole.  In that so much information is brought together in what is described as conversations between Dr. Perry and Ms. Winfrey, it is quite dense in factual knowledge as well as author points of view.  It almost reads like a series of lectures in its expansiveness and orderly progression.  Ms. Winfrey interjects herself frequently into the narrative, not only as a question-and-answer facilitator, but as a rich source of past personal trauma story and its impact.  Far from being just a curious and questioning moderator, she obviously already has extensive knowledge of the subject, and many personal stories to tell, illuminating the subject at hand. She expertly guides the accumulating narrative into a powerful book of fact and personal, often moving experience.

Dr. Perry emphasizes that the earlier the trauma, the greater and more fundamental its impact. He also notes that, because of the malleability of the brain, this impact and subsequent physical, mental, and behavioral effects can often be treated.  His organization had developed the Neurosequential Model to guide therapists, organizations, educators, and clinicians in realizing more successful treatment and education programs for individuals. One important aspect of this guidance is the recognition that the various elements of treatment must occur in the proper order, an order which recognizes the stage in the development and its location in the brain. He basically indicates that if B as a treatment protocol is applied before A, then B is likely to fail, whereas if done in proper order, A then B, the reprogramming of the brain will take into account the development stage present in the individual, a stage noted as a position of "state."

Much of the book deals with the impact of trauma in human behavior today.  Dr. Perry notes the importance of "connectedness" as a necessary element of human "world view".  The latter term repeatedly referenced as the constant conscious and unconscious process of our brain in trying to make sense of their environment, and its reaction to it. Indeed Dr. Perry indicates that treatment of those in need is more successful if they utilize the principles of "regulation and "connectedness."

Ultimately the book expands the concept to us all, and that we all share a place in the story.  It is explained that "what happened to us" should be a recognition by the reader that they are as much of "What Happed to You" as the people in the stories in the book.  Behavior, bias, racism, depression, anger, "regulation," good parenting, and willingness to improve ourselves, can all be examined by use of the principles and the author's views in this book.  If we are only willing to try it.

This is a book made for everybody."
Thanks to Richard for sharing his thoughts on What Happened to You?: Conversations on Trauma, Resilience, and Healing!