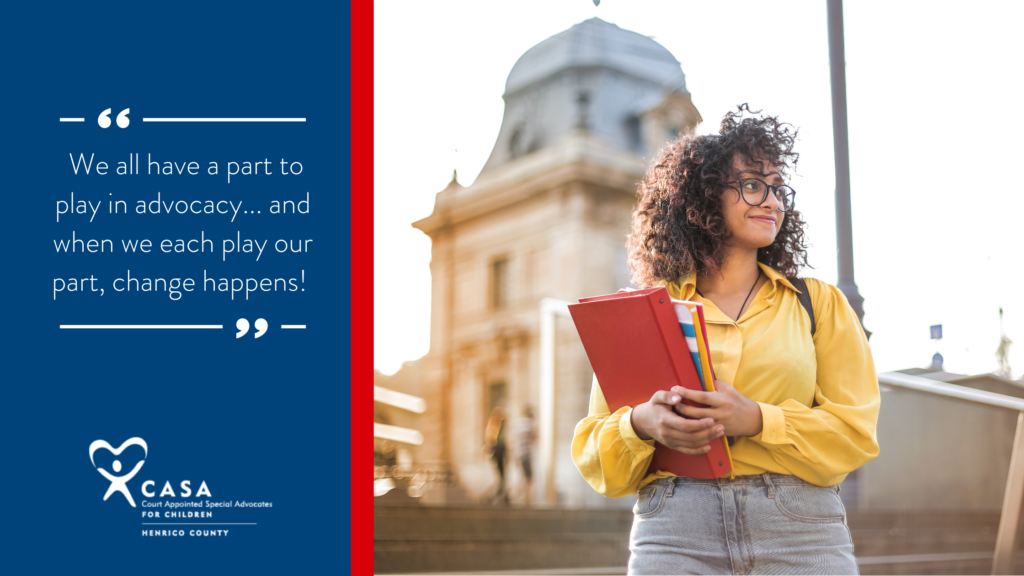 An advocate is defined as one who pleads on someone else's behalf. This appeal or petition for another can be in many forms. There are macro-level advocates, such as those who advocate for large scale reform, and micro-level advocates, such as those who speak up for individuals. Court Appointed Special Advocates primarily focus on the individual level, investing in and advocating for an individual child or sibling set.
While our daily work at Henrico CASA is focused on individuals, we are well aware of the need for larger scale advocacy. Systems and policies always have room for improvement, especially to lift up the needs of underserved communities.
We'd like to give a shoutout to our friends at Voices for Virginia's Children who champion public policies that improve the lives of Virginia's children. Their advocacy has led to a recent grant to extend Great Expectations. This program helps youth who have experienced foster care gain access to higher education. The program specifically offers support by providing college mentors and financial assistance for housing, childcare, and transportation. For former foster youth transitioning to adulthood, this tangible support makes higher education a more realistic possibility.
We all have a part to play in advocacy… and when we each play our part, change happens!