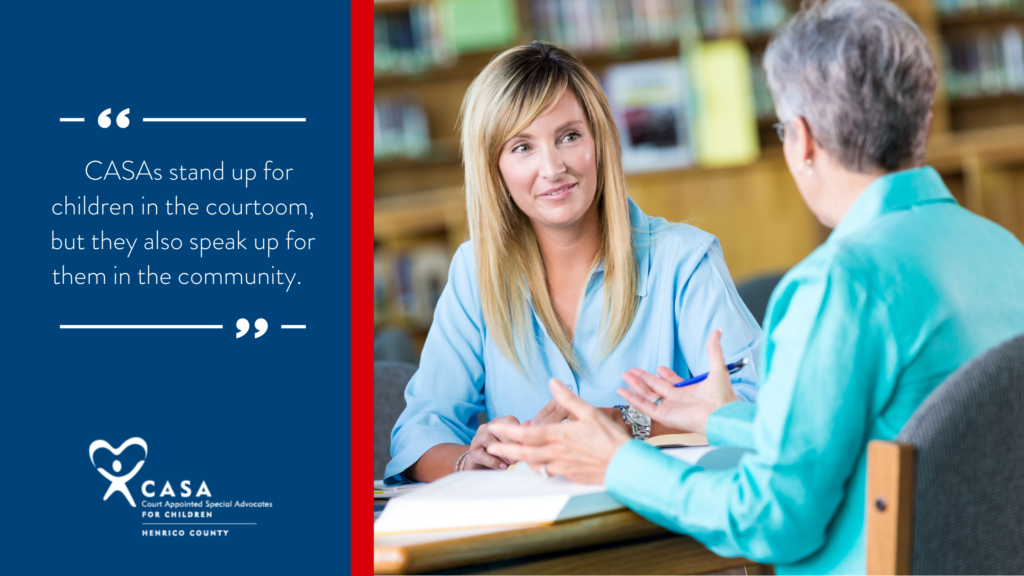 Our vision at Henrico CASA is for children to live in safe and stable homes. Really, we wish for more than just that baseline for each child. We want them to have the opportunity to thrive – to develop, to flourish, and to succeed.

In this month's blog posts we are taking a look at the factors that promote and protect youth well-being. Well-being implies overall health and wellness. This means a child's primary needs, such as safety and permanency, are being met. It also encompasses social, emotional, behavioral, and physical health. The Center for the Study of Social Policy published a guide for holistically supporting youth, in all of these areas, by promoting five key indicators for positive youth development.

Today, we are diving into Social Connections and Concrete Supports.
Social Connections
Social connections are incredibly important to children and teens because, as humans, we find value and a sense of belonging through these connections. Positive relationships with family members and friends can safeguard from the appeal of risky behaviors such as violence and substance abuse.
Connections with peers can help youth develop a healthy self-image. However, research specifically shows that it is vital to have access to at least one consistent and caring adult. This relationship with a safe adult allows for positive encouragement and opportunities to develop the knowledge and skills needed for future success.
Concrete Supports
One of the benefits of having access to a safe, caring adult is that a child has someone to go to for assistance. It takes time to build this type of relationship where a child or teen feels comfortable. However, once this relationship is established, it often minimizes the stress felt by a child. It also ensures that a child has the means to get the things they need.
CASA's Application
Court Appointed Special Advocates (CASAs) become this consistent, caring adult in a child's life. Their regular visits are the foundation for a stable relationship and ensure a child has the opportunity to ask for help.
Some of the ways that a CASA can promote social connections and supports are to:
Facilitate regular visits with relatives and family friends. This is especially important to help a child develop a healthy identity, specifically is the areas of race, ethnicity, and/or gender identity.
Pursue opportunities for the child to engage with peers, especially by becoming involved in healthy extracurricular activities.
Spend time navigating services together. Research age-appropriate supports that address the needs a child has voiced. These supports should be from a trauma-informed perspective and promote healing.
Focus on the child's strengths in order to affirm their value and encourage their participation in social activities and services.
CASA volunteers stand up for children in the courtroom, but they also speak up for them in the community. They are an advocate in all programs and systems, such as education and healthcare, to ensure a child's present and future well-being is always the priority. Learn more about Henrico CASA's best-interest advocacy here.