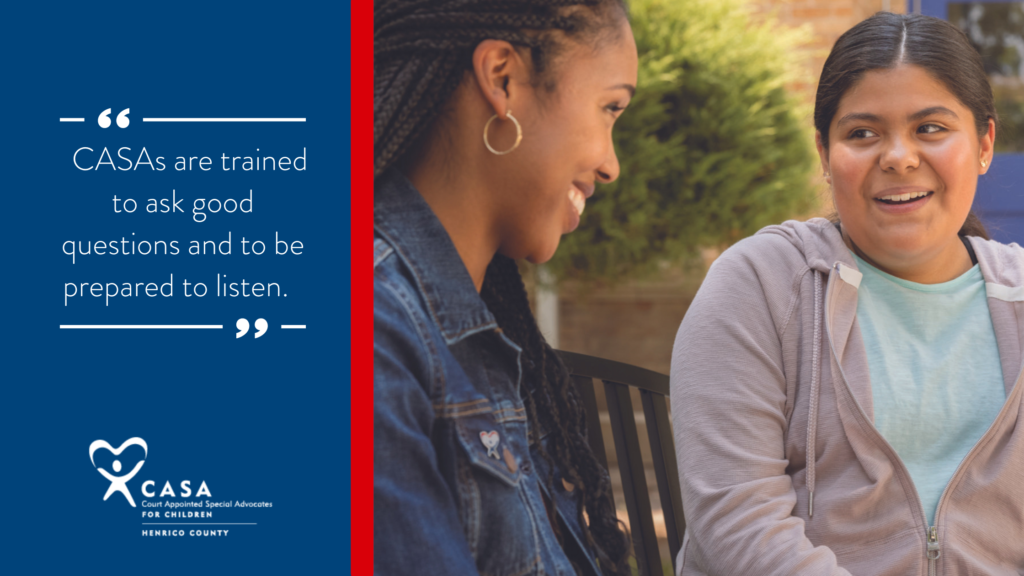 Our vision at Henrico CASA is for children to live in safe and stable homes. Really, we wish for more than just that baseline for each child. We want them to have the opportunity to thrive – to develop, to flourish, and to succeed.

In this month's blog posts we are taking a look at the factors that promote and protect youth well-being. Well-being implies overall health and wellness. This means a child's primary needs, such as safety and permanency, are being met. It also encompasses social, emotional, behavioral, and physical health. The Center for the Study of Social Policy published a guide for holistically supporting youth, in all of these areas, by promoting five key indicators for positive youth development.

Today, we are diving into Cognitive and Social-Emotional Competence.
Cognitive and Social-Emotional Competence
As children grow up in a stable environment, their capabilities develop. Over time, they gain important competencies. These are what the business world would refer to as "soft" and "hard" skills. Soft skills are interpersonal – abilities that are often tied to our innate personalities, but also gained through observation and modeling. Hard skills are learned abilities, like an expertise of some kind. Both types of skills are teachable, especially at a young age.
The best way to learn these skills is by being exposed to a broad range of life experiences. Ideally, children can explore their interests and try new things. They benefit from meeting a variety of people who can offer different perspectives and proficiencies. A child also needs opportunities to practice independence and gain responsibility as they mature.
CASA's Application
A CASA's main task is to be a child's voice and to convey their strengths, thoughts and wishes to the judges who make legal decisions on their behalf. In order to do this, a CASA must be inquisitive. They must approach a child with the desire to know them. CASA volunteers are trained to ask good questions, non-leading questions, and be prepared to listen. They listen to a child's words, but also observe the other ways a child 'speaks' through body language and facial expressions. 
Some of the ways that a CASA can promote cognitive and social-emotional competence are to:
Help children explore and identify their interests
Give children choices and opportunities to make decisions, and demonstrate responsibility.
Advocate for stability in a child's school or other community ties such as sport teams, interest groups and/or faith-based organizations
Lead a child in dreaming about the future and establishing short-term and long-term goals 
We often say that CASAs act as a child's voice… but the reality is that every child already has a voice. It is the role of CASA to ensure that a child recognizes their voice, while also helping to amplify it. CASA ensures a child's voice is heard.