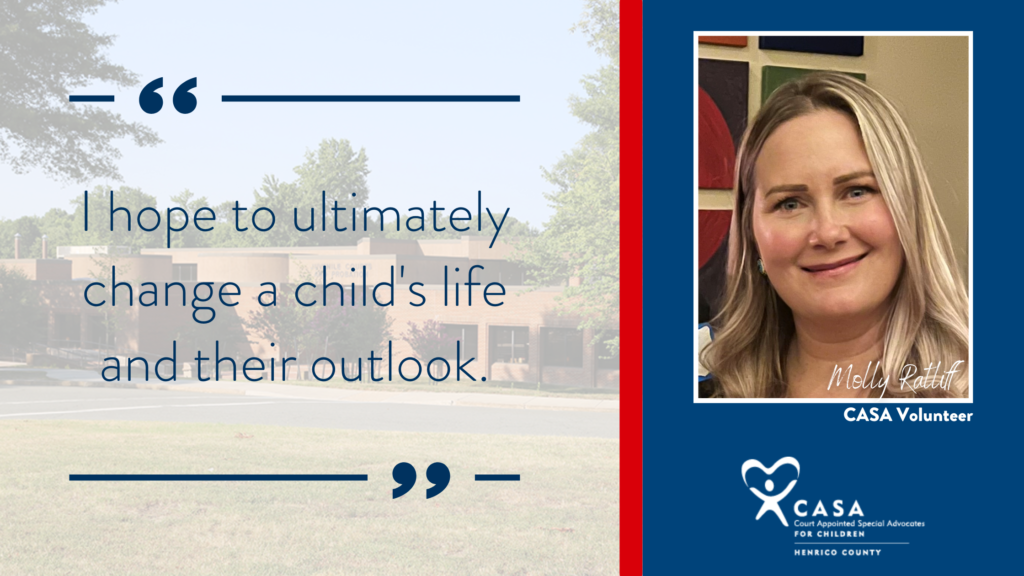 As COURT Appointed Special Advocates, the courtroom is essential to our work. This is where a Judge initially appoints us to serve a child. It is also where we then bring forth information and observations that assist the Judge in making weighty decisions on behalf of that child. This month, we welcome "guest bloggers" to share their perspective on the roles they play within the courtroom to serve both the court system and children in need of a voice.  
Observations from a CASA Advocate-in-Training
Hi! I'm Molly. I'm a native of Southern California but I've been in the Richmond area for nearly seven years. I'm new to Henrico CASA and I am currently moving into my fourth week of training to be a volunteer advocate. The program has been engaging and enlightening AND the people that I've met along the way are just the most incredible humans!
As a CASA advocate-in-training, we are asked to participate in Court observations. During my first Court observation a few weeks ago, I was most interested in the interactions between the CASA volunteer and all of the other parties involved. In the case I observed, the CASAvolunteer had been working with the family for several years. You could tell the child and the CASA volunteer had a close relationship.
While I was in court, the CASA report was highlighted several times. Since the CASA volunteers don't speak in court, it is vital that the CASA reports speak for us. I was thrilled when the CASA report got several 'shout outs'!
I have never been in a Courtroom setting so it was all very new to me and exciting. Everyone seems to know each other and all the parties work well together. The tone was extremely serious…no weird faces no matter what you hear! As I gain more experience as a CASA volunteer, I hope to ultimately change a child's life and their outlook. The impact that a CASA can have on a child is HUGE. As a consistent person in their life, you have a close relationship and have a direct positive influence on that child. I'm excited to get started!
To learn more about becoming a CASA volunteer, like Molly, visit our website to register for one Henrico CASA's upcoming virtual information sessions.