Volunteer Advocates speak up for children.
Henrico CASA trains volunteers to help our county's most vulnerable children thrive in safe, loving homes. These volunteers are called Court Appointed Special Advocates, aka CASAs, because they are appointed by judges serving in the Henrico County Juvenile and Domestic Relations District Court to speak up for the best interests of children experiencing possible abuse and/or neglect. CASAs build a relationship with the child, gather information, and collaborate with professionals in order to make a recommendation to the court.
Without an advocate, hundreds of abused and neglected children would not have a strong voice in their corner. Will you join us in our mission to ensure every abused child has a voice?
Volunteers come from all walks of life and a variety of educational and professional backgrounds. No experience is required.
If you would like to become a CASA, please fill out the volunteer application below.  Applicants will also complete an interview and undergo fingerprinting, criminal, and child abuse registry checks.
Meet Volunteer Advocates.
Gayle chose to volunteer with CASA because she was looking for a meaningful way to use her time, talents and treasures. She also had a strong desire to advocate for children and youth.
Gayle shares her best moment, to date, as a CASA volunteer below:
"I showed up to visit my child after a cancelled visit on my part. She grabbed me, hugged me, and said, "I missed you." I was startled because this was so atypical for a thirteen year old and this was only like visit number four. So after just three visits, there was some kind of connection. A pretty cool moment!"
Abbey describes her core values as service, volunteerism and justice. We see these themes interwoven in all aspects of her life, but especially when she is advocating for the children and families she serves with CASA.
"One year, I had the honor of watching a few of my CASA kids get adopted by the loving foster home they were in. CASA had been dismissed from the case, and in our role we do not often get to see final outcomes like that, but we had the opportunity to watch this beautiful adoption ceremony and it filled me with pride and joy."
As his relationship with CASA has grown, Todd has become not only a voice for children, but also a voice for CASA, in general. He forwards our mission within his personal and professional circles.
"All children deserve to be part of a loving family, live in a safe home environment, and be surrounded by people who prioritize the things that are in their best interests. I decided to become a CASA volunteer to help children in my community realize what they deserve."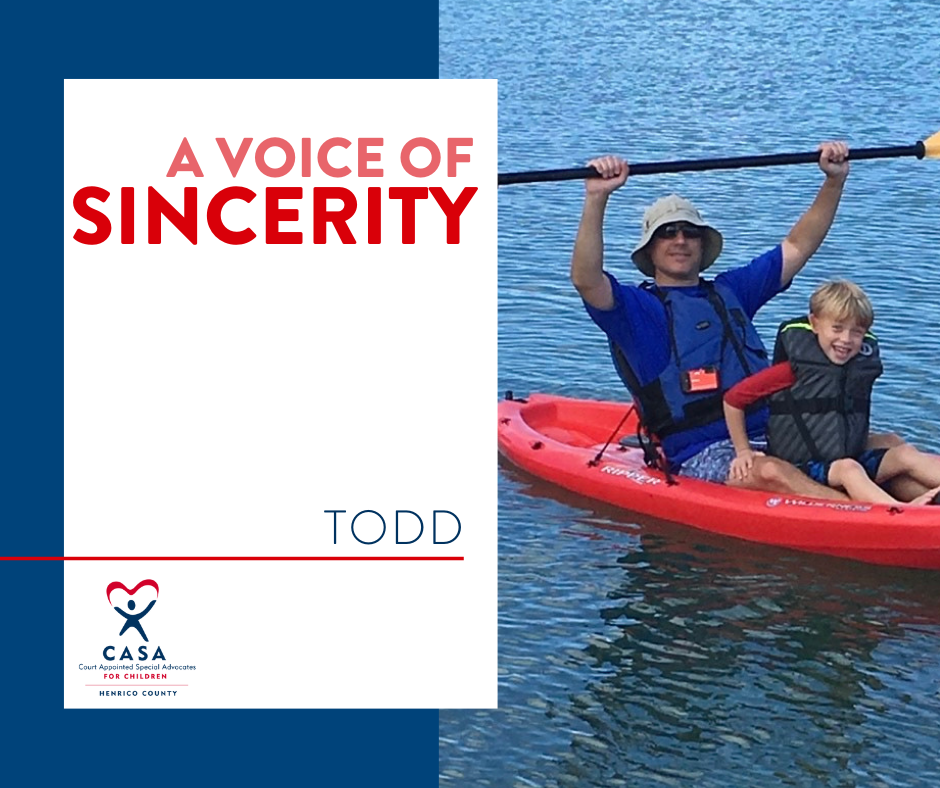 Our next volunteer training session begins in September 2022. 
Learn more by attending an upcoming Virtual Info Session or click on the links below for additional information.
Henrico CASA: Volunteer Application