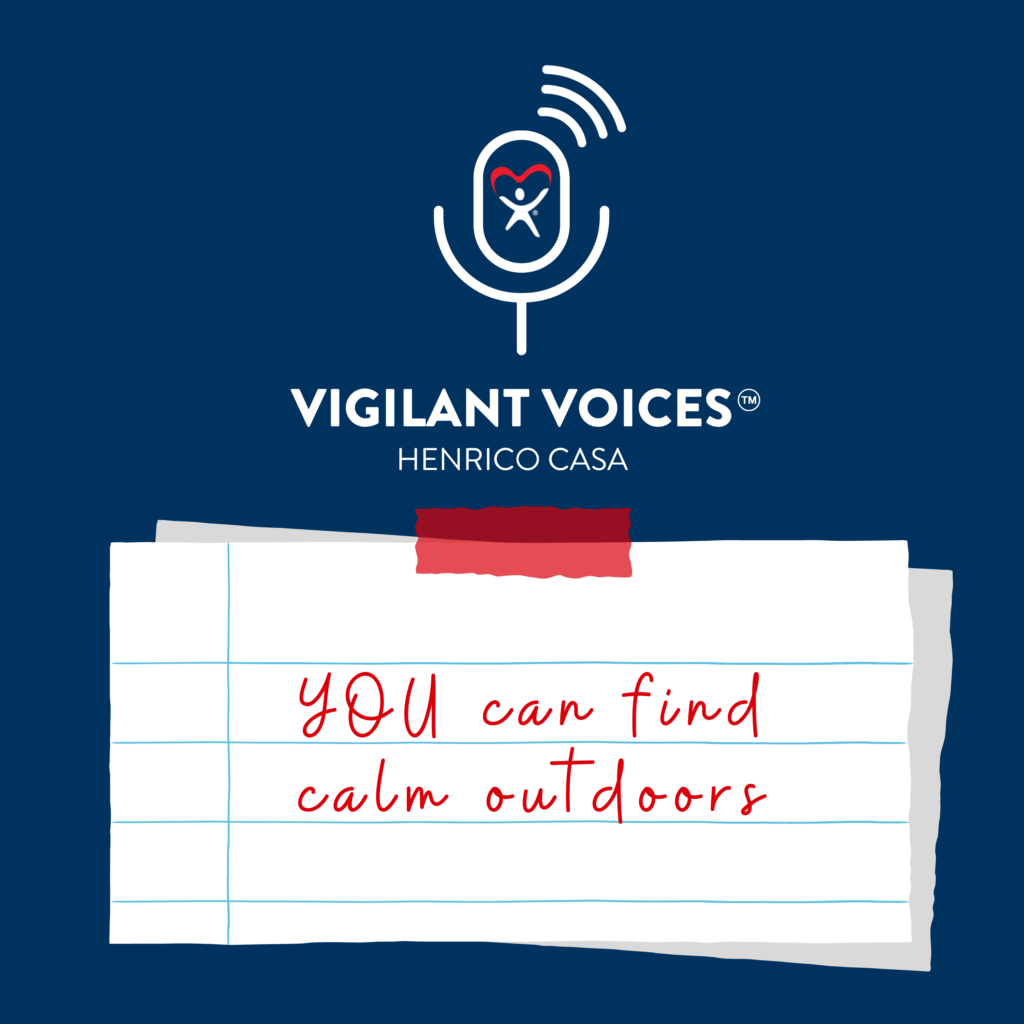 Listen to Episode 10 of the Vigilant Voices™ podcast, YOU Can Find Calm Outdoors.
Kristin Blalock: Hello, listeners! We're glad to have you listening on what we hope is a beautiful day.
Jeannine Panzera: Yes, definitely hope it's nice out because today we're actually going to be encouraging you to get outside and play.
K: Because being outside is so good for our minds, bodies and souls. So today we'll be weaving the great outdoors into our discussion as we continue to use this podcast to help all of us better know about the challenges facing children and families so that we can ensure no child continues to face abuse, neglect or trauma.
J: So, Kristin, you may remember but we actually held a continuing education session for our volunteers recently to talk about nature. As Court Appointed Special Advocates or CASAs, we have parameters around when, where and how we interact with the children that we are appointed to serve.
K: Of course.
J: But we wanted to really encourage our volunteers to tap into being outdoors as much as possible, even just to sit outside on the porch to talk with their child or maybe walk with them when they meet the child…
K: Definitely. Sometimes I see the outdoors as a necessary change of scenery or a break from problems. But it's a great question to consider how can we use nature to help a child feel better or maybe safe emotionally.
J: Yeah, and so we'll talk about why in a bit, but just want to pause for a minute to point out that getting outdoors itself though can be a challenge for some of the families we serve. If they're living in an unsafe area or maybe don't have a home.
K: Yeah, like living in a hotel or something.
J: Right. Maybe going outside safely is just unfortunately not an option.
K: Yeah, or you might not have green space close by that was actually the environment for the children in today's CASA story. These siblings, Pete and Alex, grew up in a suburban area without much opportunity to explore the great outdoors. Child Protective Services removed them from the care of their biological parents where they had been neglected and they left the only home that they knew to move into a foster home. A foster home that happened to be way out in the country where they found themselves on a farm with chickens and goats a plenty…
J: Which is wonderful but also probably a very big change. I do remember this case, but I also remember that their CASA volunteer was really hopeful that the rural setting might offer a sense of calm and the animals that they could care for.
K: Definitely. And I know I feel so much better the second I walk outside. I've been trying to get in the habit of just taking a really deep breath every time I walk out the door because fresh air just feels so good.
J: It really does. And there are also though, a ton of reasons why that is the case. So we could each pause and just to do a verification and a quick Google search, to learn some of the ways that being outdoors benefits us. As I've looked and understood, and I also love to be outdoors and work out, I'm seeing that fresh air raises our oxygen levels in our brain, which then increases serotonin levels, which then in turn helps reduce stress and anxiety and gives us a break.
K: It feels relaxing, but it truly is physically relaxing. I did a little search, and it showed that being outside actually reduces Cortisol levels, muscle tension, and your heart rate.
J: And not to mention that sunshine is a great thing, too, and as long as we are in it safely, it does help our bodies produce vitamin D, which then protects us from big things like cancer and heart attacks and strokes.
K: And the benefits go beyond what's happening while you're physically outside, because the after effect is that you sleep better and you have a stronger immune system, things like that.
J: I mean, we could go on and on because we can get sucked right into Google, but maybe let's talk about how this is especially important for children who are coming from hard places or have had a traumatic past.
K: Thanks for keeping us on track.
J: All right, so what we did that continuing education session I mentioned was we had Beth Wright, who is the Director of a local camp here in the greater Richmond area called Camp Alkulana, and Beth shared a lot of great thoughts with us that we thought were so good that we wanted to pass them along to you.
K: And Beth would know all about how nature can be therapeutic to kids, because this camp believes that their camping program is an opportunity for life changing experiences, and their specific aim is to provide camping experiences for children who would not otherwise be able to afford it.
J: Which I love.
K: Definitely. So what Beth shared is that nature offers a place for healing and a sense of wonderment to all of us, but especially for these children who have experienced traumatic things in their real world.
J: Right. And one key benefit to children who have experienced this is that nature offers a place for imagination. It's a place to explore. And then there's never ending sensory experiences.
K: The sights, the sounds, the breeze, the things to touch.
J: Right. And it's a place to be creative and a place where you can explore, see cause and effect relationships in nature, solve problems. If I step on this log here, oh, the other end pops up and then I fall down. I'm going to figure this out, and I'm going to figure out how to walk this log.
K: Right. Which then builds confidence.
J: And we want that. We really need that for some of the children that we work with. And so in addition to nature offering an opportunity for imagination, it really can also offer a place for belonging.
K: Yeah. Every child needs to feel like they belong somewhere. And there's definitely a sense of security in nature. No one's going to turn you away or not include you. Right? You're totally accepted there. You can find your secret spot or your special spots. You can kind of create your own home away from home.
J: Which is just so good for growing and then solidifying self esteem.
K: Yeah, definitely. You can just be yourself when you're outside.
J: And then there's also the overarching sense of awe that you experience in nature. I don't know if you've been out west, listeners, but when you're standing there and looking at the mountains, you feel so small, but you're in awe of these sights.
K: Right. Awe is the perfect word because you realize the world is bigger than you and your challenges and nature keeps going on and going, and the horizon, you can just keep seeing it. It's just steadfast around you.
J: Exactly. And hopefully seeing that is calming because the children we work with have experienced trauma and they're often hypervigilant and their brains can get stuck in that fight, flight or freeze mode. So they're constantly maybe on the lookout for, okay, what bad thing is going to happen to me next? They're not thinking positive.
K: Right. And what we want more than anything for them is a place to feel safe and calm, where maybe they can just let that cycle in their brain pause. And long term, as CASA workers, we hope that will be the safe, supportive home we're making sure they have. But in the meantime, to give them somewhere else to explore and belong and gain a sense of calm is amazing.
J: Right? And so we want all of you and every child to experience the benefits of nature.
K: Yeah. I know that Pete and Alex from our CASA case story are definitely now enjoying the benefits of nature. Pete especially follows his foster mom everywhere on the farm. He's always outside helping and staying active. And the boys CASA volunteer has bonded with them over their interest in being outside. He's helping them disconnect from their problems a bit and find peace outdoors. And I know this volunteer has noted a significant difference in the boys mental health. He has said that their current environment is turning out to be a real place of healing for the boys. And we're just so thankful for that.
J: It's wonderful. And I think that case story is just a great reminder that we all need – let's just get outside and play and experience everything that nature has to offer.
K: Yeah. Because we get caught up in our routines and entire days go by where I'm like, wait a minute, I haven't even been outside for more than a second today.
J: Exactly. I know I'm guilty of that sometimes. So, listeners, your call to action today is another, perhaps more simple challenge. But just plan an excursion, plan a walk, just get outside and drop us a line of what you did because we would love to hear about it.